St. Cuthbert's Prayer by Kate Leiper
My long walk this year begins August 3 in Carlisle, U.K. with a visit to St. Cuthbert's Church near Hadrian's Wall in Beltingham, Northumbria, England. Then on to Melrose, Scotland, to start the pilgrimage path of 70 miles to Lindisfarne on the North Sea Coast and Holy Island. This long walk is sponsored by a generous fellowship from the Institute of Pilgrimage Studies, College of William and Mary, Virginia. This experience is part of my ongoing research into the ecology of pilgrimage, how environment and nature intersect with the spiritual and religious journey of intent.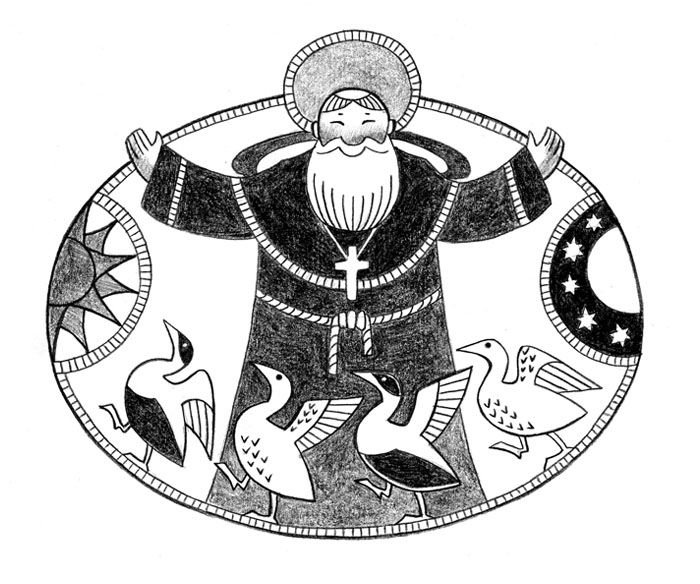 A Wild Bird and A Cultured Man, illustration by Maria Sergunia for the forthcoming book by Alexandra Goryashko (2019).
Walking the newly established path of St. Cuthbert's Way will be a chance to explore northern pastoral landscapes, the edges of the wild sea, and to talk to the people who are the stewards and keepers of the sauntering saint's favorite routes that connected Holy Island at Lindisfarne to the Bishop's Abbey at Melrose. I'm taking an eider duck to keep me company. Really, there's an eider in my backpack...
Cuddy, carved by Mike Lathroum, ready to ride in my pack across Scotland!
Now that the English Reformation Era ban on pilgrimage has been lifted (Summer of 2017) it will be interesting to see how this nearly lost art of the sacred saunter will return to the landscape - who will take it up, when, where? Will we see a new body of poetry, art, and literature come of it? I hope to speak to church folks, wardens, and vicars about how they will welcome and support pilgrims who come through their villages and towns. In a conversation via email, a vicar of one of the Parishes of the Wall, wrote "It is high time we walk again with our beloved saints across this land."
Notes:
Kate Leipet
is one of my favorite illustrators, a Scot of the North Sea Coast, who explores the stuff of northern legend through our love and longing to connect with birds, sea animals, and the wildlings of Scottish mythology.
http://kateleiper.co.uk/
Excellent blog post by Dmitri Lapa for
Orthodox Christianity
on the story of Cuthbert, Holy Island, and the many places that carry his name.
http://orthochristian.com/92028.html
St. Cuthbert's Way
website for routes and sections.
http://www.stcuthbertsway.info/
Parishes By The Wall
is an association of churches near Hadrian's Wall (the path my son George and cousin Molly hiked in 2017) that has been very helpful in prior research to Cuthbert's travels along the Roman and Frontier Borderlands region. I look forward to meeting the church warden at St. Cuthbert's in Beltingham where the saint preached during a rest in his travels returning from from the Synod at Whitby as he made his way along Hadrian's Wall to the North Sea Coast.
https://parishesbythewall.org.uk/
With deep gratitude to George Greenia and the
Institute of Pilgrimage Studies
for making this year's long walk possible!
https://www.wm.edu/sites/pilgrimage/